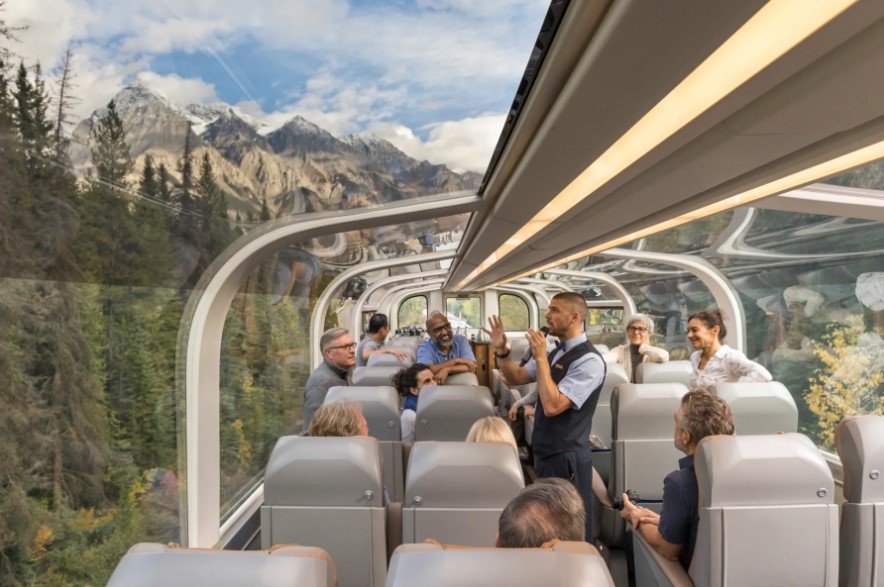 Many people consider Canada among the most beautiful countries in the world. It is filled with dense forests, picturesque lakes, stunning mountains, and towns, which look to have come straight out of a fairytale story. Now is the best time to visit Canada. There are excellent tour packages and cheap flights which have flooded the market. If the country is on your bucket list, now is the opportune time to consider getting the best travel experience offered by the Great White North. One of the best experiences you can enjoy in Canada is travelling on board the luxurious Rocky Mountaineer train. You will find the best service, views, and food, not forgetting the comfort that comes with it all. So, are you looking for inspiration on whether or not to book this trip through the Canadian Rockies? Below are some reasons why a ride on the Rocky Mountaineer should be on your bucket list.
Experience Canadian train travel
There's something special about the Rocky Mountaineer train. It has a luxury that is rarely seen on the rails elsewhere. The trains are custom-designed to ensure comfort as you travel around the western part of Canada. If you think of having a luxurious journey around, then the high-end GoldLeaf Service is available. You'll have a luxurious heated seat with a recliner and electrical outlets such as USB to keep you're electronics charged and ready to take magnificent photos. You will also have a spacious dining cabin where you can enjoy your meal, there are glass-domed cabins which offer stunning views and an outdoor viewing area.
The food is fantastic
On board your Rocky mountaineer adventure, all your taste buds will be put to use. If you were dieting or considering doing so, you should re-think that decision until after the journey. The food onboard is known for being mouth-watering, with many dishes that can send your taste buds into a frenzy. The chefs onboard showcase gourmet meals created from local produce from the region. The menu changes regularly and you can choose what you will have for breakfast, lunch, or even snacks on the train. You will choose from a well-curated and perfect menu created by award-winning chefs with years of experience.
Freedom to choose your journey
When you travel with Rocky Mountaineer, you can select the route you want to take. Each passage is different, and there are stops along the way. You can make each visit new when you take a different route every time. You can choose from the following routes: 
The Journey Through The Clouds – If you love nature, this is one of the routes for you. There are national parks, such as a visit to Jasper, and a stay at the lodge is something you will love. 

From the Rainforest to Gold Rush – This journey starts from Vancouver, heading to Whistler, Quesnel and finally reaching Jasper.

First Passage towards the West – This is an iconic trip from Vancouver, passing through Kamloops onto Lake Louise and Banff.

You can preferably combine them with a Circle Journey 
Experiences of on and off-train excursions
When travelling on the Rocky Mountaineer train, you don't spend your nights on the train. You get to experience the different towns and cities along the way during the night. You will have the chance to get cosy in great hotel beds or undertake other activities of your choice. You can visit a restaurant, go for a drink or even interact with the locals. The good thing is you don't have to unload and load your luggage. The luggage's delivered to your hotel room each evening and picked up in the morning before you leave for the next part of your journey. 
If you are thinking of a great place to travel to, the Canadian Rockies can provide spectacular views that you've never seen before. You will also have the experience when you manoeuvre around the mountains in the trains and railroads built to give comfort as you enjoy your holidays.
Related Posts