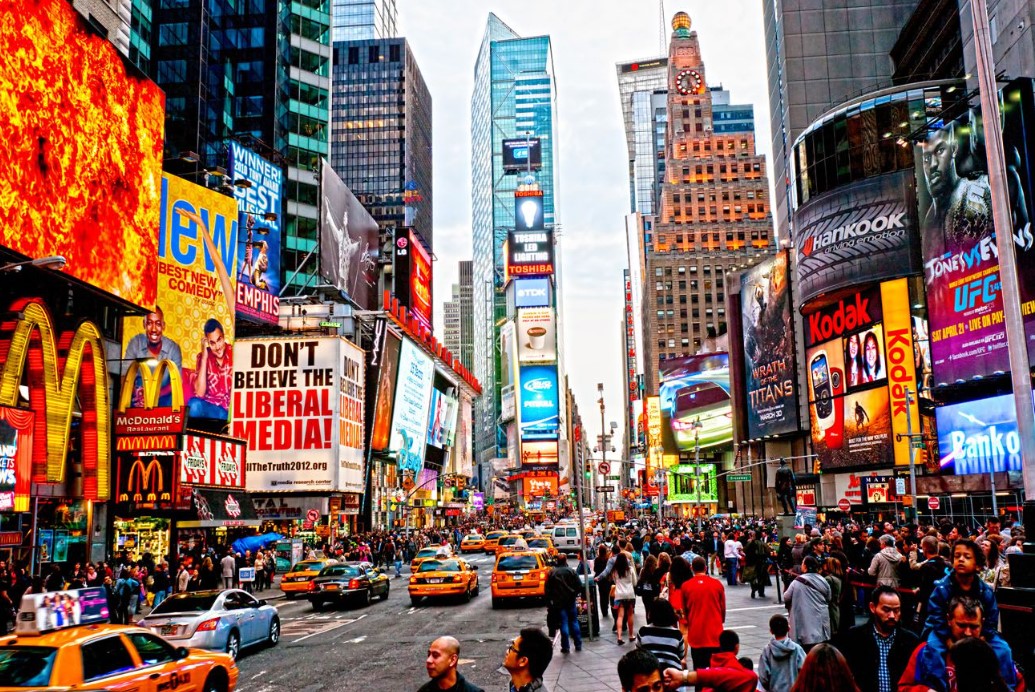 New York City, often referred to as "The Big Apple," is a melting pot of culture, entertainment, and excitement. With its iconic skyline, bustling streets, and a myriad of activities, the city offers an unparalleled experience for locals and visitors alike. Let's dive into the endless possibilities. These are things to do in New York, the city that never sleeps.
Explore Iconic Landmarks
Visit Times Square
The heart of the city, Times Square, is a vibrant hub of entertainment, shopping, and dining. Take in the dazzling lights, catch a Broadway show, and immerse yourself in the energy of this iconic location.
Experience Central Park
Escape the urban hustle by wandering through the sprawling oasis that is Central Park. Whether it's a leisurely stroll, a boat ride on the lake, or a picnic on the Great Lawn, Central Park offers a retreat in the midst of the city.
Discover the Statue of Liberty
A symbol of freedom, the Statue of Liberty stands proudly in New York Harbor. Take a ferry to Liberty Island, explore the museum, and enjoy panoramic views of the city from the crown.
Immerse in Cultural Delights
Explore Museums like the MET
The Metropolitan Museum of Art, commonly known as the MET, houses an extensive collection spanning 5,000 years. From ancient artifacts to contemporary masterpieces, the MET is a cultural haven.
Attend Broadway Shows
No trip to New York is complete without experiencing the magic of Broadway. Secure tickets to a live performance and witness world-class theatre productions in the renowned Theatre District.
Visit Ethnic Neighborhoods for Authentic Experiences
Explore the cultural diversity of New York by visiting neighborhoods like Chinatown, Little Italy, and Harlem. Immerse yourself in unique traditions, cuisine, and vibrant communities.
Indulge in Culinary Adventures
Try Diverse Cuisines in Chelsea Market
Food lovers rejoice at Chelsea Market, where a variety of eateries offer delectable dishes from around the world. Sample artisanal treats and savor the culinary delights of this iconic food hall.
Experience Fine Dining in Manhattan
For an upscale culinary experience, explore Manhattan's fine dining scene. Indulge in gourmet meals with a view, and discover why New York is a haven for food connoisseurs.
Explore Food Trucks for a Local Taste
For a more casual experience, delve into the world of New York's food trucks. From savory street food to sweet treats, these mobile kitchens offer a taste of the city's diverse culinary landscape.
Shopping Extravaganza
Wander Through Fifth Avenue
Shopaholics will find paradise on Fifth Avenue, home to luxury boutiques, flagship stores, and iconic department stores. Enjoy a day of retail therapy in this iconic shopping district.
Explore Unique Boutiques in SoHo
For a more eclectic shopping experience, venture into SoHo. Discover unique boutiques, art galleries, and trendy shops that define the neighborhood's artistic and bohemian atmosphere.
Experience the Vibrant Atmosphere of Flea Markets
Unearth hidden treasures at New York's flea markets. From vintage clothing to handmade crafts, these markets offer a unique shopping experience amidst a lively atmosphere.
Thrilling Outdoor Activities
Walk Across the Brooklyn Bridge
Take in breathtaking views of the city by walking across the Brooklyn Bridge. This iconic structure connects Manhattan and Brooklyn, providing a picturesque backdrop for a leisurely stroll.
Take a Bike Ride in Central Park
Explore the expansive Central Park on two wheels. Rent a bike and navigate the park's scenic trails, discovering hidden gems and enjoying the outdoors in the heart of the city.
Explore the High Line
An elevated park built on a historic rail line, the High Line offers a unique perspective of the city. Stroll through lush greenery and enjoy public art installations along this elevated urban oasis.
Nightlife Adventures
Discover Trendy Bars in Brooklyn
Brooklyn's vibrant nightlife scene boasts trendy bars and rooftop lounges. Experience the borough's unique energy while enjoying crafted cocktails and live music.
Attend a Live Music Show in the East Village
For music enthusiasts, the East Village is a hotspot for live performances. Explore intimate venues hosting a diverse range of musical acts, from indie bands to jazz ensembles.
Experience the Nightlife in the Meatpacking District
Known for its upscale clubs and stylish bars, the Meatpacking District comes alive after dark. Dance the night away in this trendy neighborhood known for its vibrant nightlife.
Hidden Gems and Offbeat Attractions
Explore the Whispering Gallery in Grand Central Terminal
Delve into the secrets of Grand Central Terminal by discovering the Whispering Gallery. This architectural marvel allows for an acoustic phenomenon where whispers carry across the domed ceiling. It's a unique experience within this bustling transportation hub.
Discover the Little Red Lighthouse under the George Washington Bridge
Tucked away beneath the iconic George Washington Bridge, the Little Red Lighthouse is a charming and often overlooked attraction. Take a scenic walk along the Hudson River Greenway to reach this quaint beacon, offering a glimpse into the city's maritime history.
Family-Friendly Fun
Enjoy a Day at the Bronx Zoo
For a day of family-friendly adventure, head to the Bronx Zoo. Explore exhibits featuring a diverse range of wildlife, participate in educational programs, and create lasting memories with the whole family.
Visit the Children's Museum of Manhattan
Ignite the curiosity of young minds at the Children's Museum of Manhattan. Interactive exhibits, educational play spaces, and engaging activities make this museum a perfect destination for families with children.
Explore the Interactive Exhibits at the New York Hall of Science
Fuel your child's interest in science at the New York Hall of Science. With hands-on exhibits and interactive displays, this museum promotes learning through play, making science exciting for visitors of all ages.
Seasonal Delights
Experience the Magic of Christmas in Rockefeller Center
During the holiday season, Rockefeller Center transforms into a winter wonderland. Witness the iconic Christmas tree lighting ceremony, lace up your skates at the ice rink, and soak in the festive atmosphere that defines New York during this magical time of year.
Attend the Halloween Parade in Greenwich Village
For a spooktacular experience, join the annual Halloween Parade in Greenwich Village. Marvel at creative costumes, enjoy live performances, and immerse yourself in the lively spirit of one of the city's most celebrated events.
Enjoy Summer Concerts in Central Park
As the weather warms up, Central Park becomes a venue for outdoor concerts. Grab a blanket, relax on the Great Lawn, and enjoy performances ranging from classical music to contemporary hits under the open sky.
Sports Fanatic's Paradise
Attend a Game at Madison Square Garden
Sports enthusiasts can catch a game or concert at Madison Square Garden, an iconic venue that hosts major events. Whether it's basketball, hockey, or a live concert, MSG offers a thrilling experience for fans.
Visit the Yankee Stadium
Baseball fans shouldn't miss the opportunity to visit the legendary Yankee Stadium. Immerse yourself in the rich history of the New York Yankees and cheer on the team in this iconic ballpark.
Experience the Thrill of the US Open
If you're a tennis aficionado, plan your visit during the US Open. Watch the world's best tennis players compete at the Arthur Ashe Stadium, and soak in the electric atmosphere of this Grand Slam tournament.
Relaxation and Wellness
Take a Boat Ride in the Hudson River
Escape the urban buzz by taking a boat ride along the Hudson River. Enjoy breathtaking views of the skyline, Statue of Liberty, and Ellis Island while relishing a moment of tranquility on the water.
Practice Yoga in Bryant Park
Join a yoga class in the heart of Manhattan at Bryant Park. Surrounded by skyscrapers, this urban oasis provides a serene setting for yoga enthusiasts to unwind and rejuvenate.
Experience Spa Treatments in Luxury Hotels
Indulge in pampering spa treatments offered by the city's luxury hotels. From massages to facials, treat yourself to a moment of relaxation amidst the hustle and bustle of the city.
Transportation Tips
Navigate the Subway System
Mastering the subway system is key to efficiently navigating the city. Familiarize yourself with the different lines, plan your route, and enjoy the convenience of one of the busiest subway systems in the world.
Use Rideshare Apps
For a more personalized transportation experience, utilize rideshare apps. Whether it's Uber, Lyft, or local alternatives, rideshares offer a convenient and comfortable way to explore the city.
Explore the City on Foot
New York City is a walker's paradise. Lace up your comfortable shoes and explore the neighborhoods on foot. You'll discover hidden gems, eclectic shops, and vibrant street life that may go unnoticed when using other modes of transportation.
Budget-Friendly Options
Free Attractions in the City
Discovering New York on a budget is possible with the abundance of free attractions. From public parks to street performances, take advantage of the city's no-cost offerings.
Affordable Dining Options
Enjoying delicious meals in New York doesn't always require breaking the bank. Explore affordable dining options, from food trucks to local eateries, for a taste of the city's diverse culinary scene without emptying your wallet.
Discounted Broadway Tickets
For theatre enthusiasts on a budget, consider purchasing discounted Broadway tickets. TKTS booths offer same-day tickets at a lower cost, allowing you to experience the magic of Broadway without splurging.
Conclusion
In conclusion, the myriad of activities in New York City caters to every taste and preference. From iconic landmarks to hidden gems, cultural delights to thrilling adventures, the city invites exploration and promises unforgettable experiences. Whether you're a local looking to rediscover your city or a visitor eager to embrace the vibrancy of New York, there's always something new to discover around every corner.
Related Posts